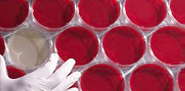 Hong Kong's First International Conference on Research Integrity Held at HKU

The 6th World Conference on Research Integrity (WCRI), the largest international conference in this field, was held at HKU on June 2–5, 2019. This is the first time that such an event has been held in Hong Kong, and HKU co-organised the conference with RMIT Melbourne and welcomed participants from around the globe.

More than 600 participants joined the conference from a wide array of disciplines and over 50 countries, and they included researchers, teachers, leaders of funding agencies, government officials, journal editors, senior administrators and research students. The theme of the conference – New Challenges for Research Integrity – reflects the changes in how research is being conducted and how efforts to influence research cultures towards responsible conduct and research integrity are evolving.

The conference kicked off on June 2 with an opening ceremony, a plenary on the conference theme, a traditional Chinese lion dance, and a welcome reception incorporating a cultural fair. This was followed by three full days of plenaries, symposia, concurrent sessions, poster displays, and numerous opportunities for more informal interaction.

An important intended outcome of the conference is the Hong Kong Principles, with the aim of further fostering research integrity. The Principles – which seeks to serve as a set of guiding principles to help institutions to improve the current system of faculty incentives and rewards – was one of the focuses running throughout the conference and will be further refined based on the valuable input from participants.

This is the 6th in the WCRI series, with the first held in Lisbon in 2007, and a strong tradition has been built of inspiring and lively interactions between all stakeholders involved in fostering the responsible conduct of research.


Research Integrity Public Lecture – Dr Ivan Oransky

Following the conclusion of the 6th WCRI, HKU also held a research integrity public lecture on June 6 titled "The Wild West of Scientific Publishing: What We've Learned at Retraction Watch", presented by Dr Ivan Oransky.

Retraction Watch was set up in 2010 by Dr Oransky and Adam Marcus, at a time when (unbeknownst to them) retractions had grown ten-fold in the preceding decade. In his talk, Dr Oransky discussed the reasons for that increase, whether fraud is on the rise, the growth of post-publication peer review, and other trends highlighted by Retraction Watch, which is now viewed by 150,000 people per month.

More information on the 6th WCRI can be found at http://www.wcri2019.org/.

Dr Oransky's slides from the Research Integrity Public Lecture can be viewed here.