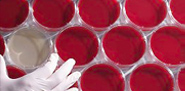 King's/HKU Fellowship Awards - Fostering Interaction, Collaboration and Internationalisation
As part of HKU's efforts to promote internationalisation, the King's College London (KCL)/HKU Fellowships were introduced to support reciprocal visits between HKU and KCL for research collaboration and academic exchanges. KCL is a leading teaching and research institution based in central London.

The fellowships are open to full-time teachers. To date, around 20 HKU academics have visited KCL through these fellowships, with participating academics coming from Arts, Education, Law, Medicine, Science, and Social Sciences.



Face-to-face interaction


"The direct interaction and discussion I had with researchers at KCL was truly inspiring," said Dr Jenny Lam from the Department of Pharmacology and Pharmacy, who visited KCL in 2014. As well as meeting her collaborator at KCL's Institute of Pharmaceutical Science to discuss a multi-disciplinary project, she also joined weekly lab meetings. "I spent time meeting with students and scientists from different research disciplines at King's and visited their research facilities across different campuses."

The visits to KCL under the fellowship provided Professor Tatia Lee from the Department of Psychology with the chance for in-depth discussion with her KCL collaborator on a cross-cultural neuroscience project. "Emails and Skype conversations would not have achieved the same level of in-depth, passionate and productive teamwork that has been kindled by the opportunity to become familiar with our collaborator in person as well as his laboratory settings, colleagues and environment," Professor Lee said.

"The fellowship provided an invaluable opportunity for me to engage with outstanding scholars in my field of medical history," said Dr Robert Peckham from the School of Humanities, who visited KCL this summer. "It was extremely successful, both in relation to the research activities I was able to pursue and the opportunities face-to-face interaction gave in exchanging ideas, building connections and designing high-impact research proposals."


Boosting internationalisation


Enhancing internationalisation through effective partnerships with institutions and researchers is a key goal of the University's research endeavours. "Closely woven research collaborations that span different countries and cultures considerably enhance scientific investigation by allowing leaders in various fields to come together and share their perspectives," Professor Lee said. "Bringing researchers together to share their knowledge and perspectives facilitates high-quality research as it eases communication and access to required populations or equipment."

"I was able to consolidate and extend research collaborations," Dr Peckham said, "and I also held discussions with senior faculty members about ways of enhancing institutional research ties." He views the fellowship as "an opportunity to further internationalise our research", which focuses on the social and cultural contexts of disease emergence, complementing HKU's strength in emerging infections and pandemic control.


Fostering further collaboration

The benefits of the fellowships go beyond the time spent at KCL. Dr Peckham found the visit an invaluable opportunity to build new research links: "I was able to initiate collaborative research proposals with colleagues there, including a project on the history of medical nursing."


Professor Lee and Dr Lam also cited developing future collaborative projects in their respective fields as a distinct benefit of their time spent at KCL, along with establishing co-supervision for their PhD students on the KCL/HKU Joint PhD Programme, which offers research students the opportunity of an enriching international experience.

"What I found most rewarding was sharing knowledge and ideas with our collaborators and the exciting prospects for future research that arose from this," Professor Lee said.


Research Fellowships for Internationalisation Programmes


The fellowship is one of number of internationalisation programmes funded by the University Research Committee that aim to provide opportunities for researchers to visit overseas institutions to enhance research collaboration and academic exchange. More information, including application details, can be accessed from the following links (for HKU members only).