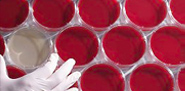 HKU to Coordinate HIV Study in Theme-based Research Scheme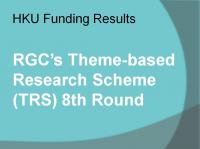 HKU is participating in all of the five large-scale projects that are being funded by the Research Grants Council (RGC) in the eighth round of the Theme-based Research Scheme (TRS) and is coordinating the project on 'Potentiating Host Immunity for HIV-1 Functional Cure'. This project is led by HKU researcher Professor Zhiwei Chen of the AIDS Institute, Department of Microbiology and it has been granted HK$47.1M by the RGC. TRS is a major grant scheme of the RGC that aims to focus academic research efforts on themes of strategic importance to the long-term development of Hong Kong.

The HIV/AIDS epidemic is a global health challenge. In Hong Kong, the number of cumulative infections has increased from 776 in 1996 to 8,952 in 2017 despite active prevention and the introduction of the combination antiretroviral therapy (cART) that helps suppress the viral replication. This HKU-led project seeks to develop a novel combination immunotherapy that increases the immunity of patients against HIV-1 to achieve a functional cure, defined as a state of suppressed viremia to an undetectable level for a prolonged period without receiving cART.

"Our project will study the combination immunotherapy in both monkey models and human subjects," Professor Chen explained. "The results are expected to enrich our knowledge on mechanisms of immune protection which are critical for saving patients' lives, reducing cART toxicity/resistance, as well as relieving the financial burden of the government and patients. New technology platforms and animal models established in our study will also be useful for fighting other human diseases. Besides, we target to commercialise the biomedical products developed in this project through our ongoing collaboration with biotechnology companies."


Professor Zhiwei Chen


"Our research builds on the scientific outputs and evidence produced by the HKU AIDS Institute in past years and we have established a team comprising local and international experts of diverse expertise as well as long-term relationships with industry partners and regional hospitals," Professor Chen said. "We believe that such synergic and multi-disciplinary effort is necessary in catalysing scientific innovation and solving major health challenges, including the search for a functional cure for HIV/AIDS infection."

In the eight rounds of TRS to date, HKU has received the largest share of funding overall for coordinating 17 of the 40 funded projects, and is participating in a further 19 projects coordinated by other local institutions. These large-scale projects are linked to the University's Strategically Oriented Research Themes, which have demonstrated capabilities, ambition and potential to advance new frontiers.

Success in other competitive funding schemes

In other recently announced funding results, the University has secured both the highest number of approved projects (220) and the largest share of funding (HK$142M) among all local institutions in the latest round of the General Research Fund (GRF). HKU's young researchers have received 25 of the 153 awarded projects in the Early Career Scheme (ECS). In the Humanities and Social Sciences Prestigious Fellowship Scheme (HSSPFS), HKU has gained support for 3 of the 7 awarded projects, securing the largest share of approved funding amongst Hong Kong institutions.
Find out more