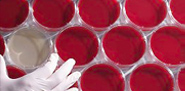 HKU to Co-ordinate MERS Study in Theme-based Research Scheme
In the latest round of the Theme-based Research Scheme (TRS), the Research Grants Council has granted HK$46.7 million for the project 'Molecular Basis for Interspecies Transmission and Pathogenesis of Middle East Respiratory Syndrome Coronavirus' led by HKU researcher Professor P.C.Y. Woo of the Department of Microbiology. The project is a collaborative effort by researchers from local institutions as well as the Middle East and China. Over the past decade, the research group has identified the largest number of coronaviruses, including the origin of the SARS coronavirus in Chinese horseshoe bats and also those that are closely related to the Middle East Respiratory Syndrome (MERS) coronavirus which will help identify its animal origin.

MERS coronavirus electron microgram (Courtesy of National Institute of Allergy and Infectious Diseases)

The MERS coronavirus, like other emerging infectious agents, is a global health threat. The project seeks to identify the evolutionary paths leading to the emergence of MERS and the mechanisms of interspecies transmission, to delineate the molecular mechanisms by which the MERS coronavirus evades innate immunity, and to characterise its pulmonary and extrapulmonary replication and pathogenesis. It will offer insights into the prevention, diagnosis and treatment of MERS as well as future emerging coronaviruses.

"Collaborative inter-/multi-disciplinary thematic research strategically aligns researchers of different disciplines for synergy, resulting in achievements that are not possible with just one of the members or teams," Professor Woo said. "Our contributions have revolutionised coronavirus research and provided the foundation for in-depth mechanistic studies on the subject. We are very happy that our hard work has been internationally recognised to reach the top level."


In the five rounds of TRS to date, HKU has received the largest share of funding overall for co-ordinating 10 of the 23 funded projects, and is participating in a further 9 projects co-ordinated by other local institutions. These large-scale projects are linked to the University's Strategic Research Themes that reflect HKU's fields of expertise and strong potential and address issues of local, regional and global relevance.

Success in other competitive funding schemes

In other recently announced funding results, the University has secured both the greatest number of approved projects (215) and the highest amount of funding (HK$150M, on-costs excluded) for the 13th consecutive year in the General Research Fund (GRF). HKU's young researchers have received 25 of the 151 awarded projects in the Early Career Scheme (ECS). In the Humanities and Social Sciences Prestigious Fellowship Scheme (HSSPFS), HKU has gained support for 1 of the 2 awarded projects, securing the larger share of approved funding.
Find out more