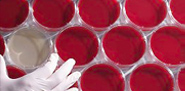 HKU Coordinating Two of Five Projects in Latest Round of RGC's Theme-based Research Scheme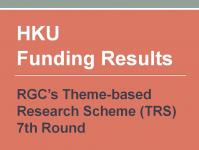 HKU is participating in all five projects funded in the seventh round of the prestigious Theme-based Research Scheme (TRS) and coordinating two of these large-scale projects. TRS is a major grant scheme of the Research Grants Council (RGC) that aims to focus academic research efforts on themes of strategic importance to the long-term development of Hong Kong.

A total budget valued at HK$83.3M (including on-costs) for a period of five years was awarded to the following two HKU-led projects under the themes of Promoting Good Health and Advancing Emerging Research and Innovations Important to Hong Kong respectively.
Translational Studies for Elucidating the Tumor Heterogeneity and Molecular Evolution in Metastatic Gastrointestinal Tract Cancers for Personalized Medicine
Project Coordinator: Professor M.L. Lung, Department of Clinical Oncology
Approved funding: HK$33.3M

Cancer is the number one cause of deaths in Hong Kong. Metastatic cancers – those that spread to a different part of the body from where they started – are the most difficult to treat. "Circulating tumor cells (CTCs) in the blood can be used as a biomarker to monitor the metastatic cancer," Professor Lung explained. "Advances in CTC technologies now allow us to use patients' blood specimens to monitor treatment effectiveness and investigate the fundamental basis of metastasis and drug resistance development. Since blood-taking is non-invasive compared to surgical biopsies, closer and more frequent monitoring can be achieved, which allows earlier detection of cancer recurrence or spread and provides information needed to determine the best possible treatment to improve the survival and quality of life of patients." The project is expected to assist clinicians in identifying targeted drugs and treatment for gastrointestinal tract cancer patients, as well as to serve as a model for other cancer types.


Project Coordinator Professor Maria Lung


"Our team is a synergistic group of basic scientists, bioengineers, bioinformaticians and clinicians who have a longstanding collaboration in different aspects of esophageal cancer studies," Professor Lung said. "The collaborative and multidisciplinary effort is important in creating a greater impact from this TRS project."
Big Data for Smart and Personalized Air Pollution Monitoring and Health Management
Project Coordinator: Professor V.O.K. Li, Department of Electrical and Electronic Engineering
Approved funding: HK$50M


"This project develops big data technologies to enable the generation of smart (real-time and interactive) and personalized air quality information, alerts and advice to improve the health and well-being of individual citizens, creating new business opportunities and a competitive advantage for the IT and healthcare industry in Hong Kong, as well as informing the government on related public policies," Professor Li said.


Project Coordinator Professor Victor Li

The interdisciplinary project team, jointly led by Professor Victor Li and Dr. Jacqueline Lam, consists of local and international experts from eleven disciplines. "The collaboration with our key partner, Cambridge University, under the HKU-Cambridge Clean Energy and Environment Research Platform has been instrumental in the success of this TRS bid," Professor Li said. "This project is the first step in our plan to develop an interdisciplinary research centre based on our engineering-driven, evidence-based and societal-empowering paradigm. We also plan to recruit high calibre research students to take part in this project through the upcoming HKU-Cambridge PhD Pathway. Our interdisciplinary big data framework will be transferrable to other cities aspiring for smart, happy and healthy living. In the next five years, we anticipate producing impactful research results and technologies that greatly benefit Hong Kong and beyond."
Recent results in other competitive funding schemes
Apart from the TRS, HKU has also performed very well in the 2017–18 funding round of the Humanities and Social Sciences Prestigious Fellowship Scheme (HSSPFS). Of the five applications funded, HKU received the largest share, with total funding of HK$1.784M (excluding on-costs) awarded to two projects on early childhood development and learning and urban development in the Pearl River Delta. Since the scheme began in 2012–13, HKU has the highest cumulative number of fellowships and largest funding amount of any UGC-funded institution. In addition, HKU was awarded total funding of HK$138.155M (excluding on-costs) for 198 projects in the 2017–18 General Research Fund (GRF), and HK$16M for 27 approved projects in the Early Career Scheme (ECS).


Find out more